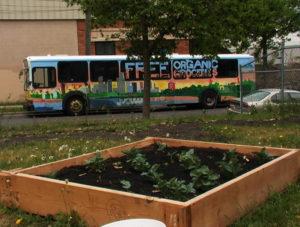 At Sisters' Camelot we believe that true food solidarity comes from local food production.  Where there is land to be cultivated, we can grow food.  This idea has inspired the 36th Street Sisters's Camelot Garden.  Spirals of herbs and vegetables, a passive solar chicken coop, fruit trees and more offer a living example of how we can grow food in urban areas.  As an organization, we work with the permaculture ethics and principles to design resilience and inspire others to do the same.  We have a volunteer program where people can get involved with our organization and learn how to create their own urban/suburban oasis.
The food that we grow we gift to our greater community, leaving offerings on the community board bench next to the bus stop on the corner of 36th and Chicago.  In this way we share our abundance and cultivate community connections.  Because the garden is such an inspiration, we have been invited to branch out and are excited to announce that we will be creating 2 new gardens this spring.  In collaboration with Youth Farm and the Bahai Center garden on Chicago, we have a beautiful beginning that will be ready for planting in the spring.  Many hands have gone into cultivating this space and will continue to show as the cold thaws and the flowers blossom.  We are also establishing a root stock area, where we will be teaching grafting techniques and creating an urban food forest.  More info in that coming soon.
If you have a lot in mind where you would like to create a garden contact us and we can offer some advice or collaborate.
May we cultivate regional abundance and community solidarity.