We currently distribute pre-packed bags of groceries as well as bulk produce at Bethany Community Church, Walker Church, Park Avenue Church, and Indigenous Roots in St. Paul on Tuesdays and Thursdays. Please check the schedule for these events on our facebook page by clicking here. (You don't need a Facebook account to view.)
We continue to take Covid-19 seriously and follow masking/sanitizing/physical distancing recommendations.
Please reach out to us at collective@sisterscamelot.org if you would like to provide a site for us to do a food share, or if you are a community kitchen requesting bulk donations.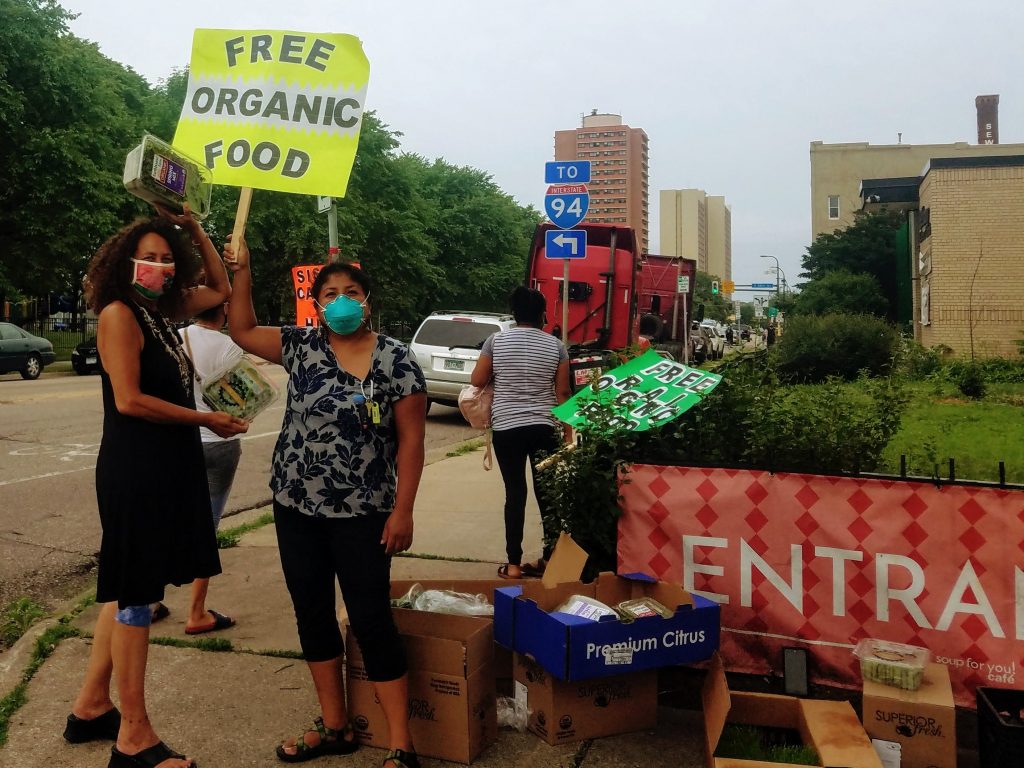 Sisters' Camelot has given out free organic food twice a week throughout the Twin Cities for the last 20 years. By transforming a waste stream into a resource, Sisters' Camelot has offered people, who otherwise wouldn't be able to afford it, the opportunity to eat healthy, organic, whole foods.
Sisters' Camelot runs on donations, we believe in the abundance of a gifting economy and give all our food freely to those who need it. Traditional food shelves can be intrusive, asking for personal information and limiting the amount of food people can have. At Sisters' Camelot, we give away food to without asking for personal information and our only request is to only take what you will use. We believe that waste is unnecessary, that it can be turned into a resource. That is why we are tapping into a waste stream and turning it into a resource for people, it is also why we compost all the food that is not taken or feed it to our chickens. We recycle all the cardboard boxes, plastic containers, and pallets that the food comes in and work consciously to minimize waste.
Who gets the food?
At Sisters' Camelot, we believe in random acts of kindness and have found that this model minimizes dependence on our service. Although, we would love to give to as many people as possible, it is a limited resource, and therefore we need to move our food share to different locations to more equally distribute the food. We have to organize the food being shared at these locations while remaining safe from COVID-19. We are currently working on establish greater community partnerships with neighborhoods in food deserts, so that we can efficiently distribute food to those who will use it. In this way, we can practice both intentional gifting and also random acts of kindness.
Donate today:
Mail checks to PO Box 7058, MPLS, MN 55407
Thank you so much. Your donations keep us sharing food.